Good maternal nutrition from conception to her child's second birthday is critical to the future health, well being and success of her child. This period, regarded as the "first 1,000 days of life", is the most critical time for positive outcomes on a child's cognitive and physical development. Thus access to the right nutrition during this period can have a profound impact on a child's ability to grow, learn and rise out of poverty. Research shows that pregnancy and infancy are critically important periods of a child`s brain development. Therefore, mothers and babies need good nutrition to lay the solid foundation for the child's future cognitive, motor and social skills, school success, and productivity.
It is worth noting that children with poor cognitive and brain development during early life are at risk of later neurological problems, poor school achievement, early school dropout, low-skilled employment, and poor care of their own children, thus contributing to the intergenerational cycle of malnutrition and poverty. In the same way, during the pregnancy and breastfeeding phases of life, the nutrient requirements of the mother increase as a result of the physiological body changes. Thus adequate nutrition plays a critical role in fetal growth /development and optimal health among women.
Primarily, maternal nutrition focuses on the provision of adequate macro and micronutrients before and during pregnancy and lactation, and these nutrients include proteins, carbohydrates, vitamins, minerals. Vitamin and mineral intake this is usually achieved through iron and folic acid supplementation, dietary calcium intake, iodine intake, and vitamin A supplementation from consumption of fortified foods. In the same way, promotion and support of optimal infant and young child feeding /care practices in the" first 1000 days of life" focuses on: Immediate initiation of breastfeeding after birth; Exclusive breastfeeding for the first 6 months of life; timely initiation of complementary feeds after 6 months (e.g., dietary diversity) coupled with continued breastfeeding to 2 years or beyond, adequate care and feeding of sick children to prevent both acute and chronic characterized as stunting.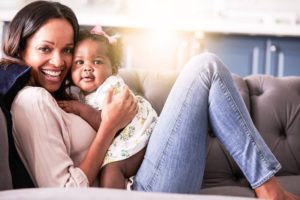 Multi-sectoral efforts such as fortification, Biofortification, nutrition education, behavioral change communication an women empowerment are required to combat the triple burden of malnutrition i.e. undernutrition, overnutrition and micronutrient deficiencies among children and women of reproductive age. With this in mind, Africa Improved Foods, a manufacturer of high quality and nutritious complementary foods, developed Nootri Mama and Nootri Toto. The production of these Nootri porridges is based on the solid evidence that the first 1,000 days are critical for the child`s physical and mental development. The Nootri range is a set of porridge flours made to complement the dietary needs of pregnant and breastfeeding mothers, as well as older infants above six months. They have been enriched with the relevant vitamins and minerals required for the healthy growth of children from conception. These products are produced from mixed grains of soy and maize locally sourced from Rwanda, Uganda, Tanzania, and Zambia.
Nootri Toto
Nootri Toto is formulated exclusively for children older than 6 months. Nootri Toto serves is a cereal-based porridge that contains skimmed milk powder. It has been further enriched with Vitamins A, B6, B12, C, E & D, calcium, zinc, and iron, all of which are necessary to meet young children's nutritional needs. The porridge complements the diets of breastfeeding infants and young children who are starting to consume family foods.
Nootri Toto porridge preparation entails; Mix 1 portion of Nootri Toto with 4 portions of cold water until smooth. Cook the mixture in a pot /Saucepan at medium heat and bring to a boil. Occasionally stir the mixture until desired texture is obtained. Serve when ready
Nootri Mama
Nootri Mama is formulated for pregnant and breastfeeding mothers. Its consumption is recommended immediately upon discovery of pregnancy. Nootri Mama is also a cereal-based porridge enriched with vitamins and minerals that are necessary for healthy early childhood development. Nootri Mama has been fortified with vitamins A, B6, B12, C, E & D and calcium, zinc and iron. Consistent complementary consumption of Nootri Mama is recommended for breastfeeding mothers until their child is two years of age. Consumption of this porridge ensures that mothers meet their recommended daily nutrient intakes.
Nootri Mama Porridge preparation entails; Mix 1 portion of Nootri Mama with 4 portions of cold water until smooth. Cook the mixture in a pot at medium heat and bring to a boil. Occasionally stir the mixture until desired texture is obtained. Serve when ready
Having a nutritious porridge that has been enriched with other essential nutrients required by the body is of great advantage to both the mother and the child. This promotes adequate nutrient intake and consequently prevents nutrient deficiencies that could result into poor nutrition outcomes.
This article was written by Dr. Joweria Nambooze, the Regional Nutritionist at Africa Improved Foods. Dr.Nambooze is also a lecturer at Kyambogo University and the head of the food and nutrition department at the Africa Innovations Institute. She has a degree in Human Nutrition and Dietetics, a Masters degree and a Ph.D. in Agricultural Sciences.