According to the Levels and trends in child malnutrition Report conducted by WHO in 2019, over 24 million children under 5 years of age are stunted in the East African region. A condition that will most likely affect their mental acuity and their physical development as they grow with long-lasting effects on their lives.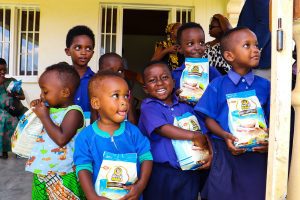 As a country at the forefront in the fight against stunting in the region, Rwanda has put in place different measures, initiatives and programs with the sole purpose of helping out vulnerable mothers during their pregnancy and their kids to avoid stunting.
An example of one such project is the Shisha Kibondo program that was implemented by the Ministry of Health through the National Childhood Development Agency. In this program vulnerable Pregnant mothers, breastfeeding mothers, and children under two years are eligible to receive Shisha Kibondo, a fortified porridge mix produced by Africa Improved Foods available in two variants (one for the mother and another for the child).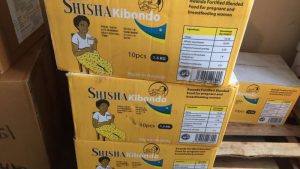 This is a preventative program meant to target a demographic that is at a higher risk of becoming malnourished and it has helped numerous families since its inception in 2016.
Meet Zefirina Uwera, a mother who entered the Shisha Kibondo program soon after giving birth. Six months after Zefirina gave birth, her son was showing signs of stunting due to lack of nutritious feeding since breastfeeding could no longer be enough to satisfy his nutritional demands.
One of the major red flags was the abnormality in the child's growth because he was too tiny for his age.
This filled the 28-year-old mother with worry since she started noticing the symptoms for what they were. Possible stunting in her young baby.
The mother's predicament was soon discovered by a Community Health Worker in the Mugesera Sector, Ngoma District who advised Zefirina to seek help from the Health Centre.
The health centre found her son in critical health condition due to lack of a healthy nutrition. They immediately enlisted her in the Shisha Kibondo program and that marked the start of her toddler's journey to recovery.
"I could not afford to buy milk regularly to feed my son and I started to lose hope thinking he would die anytime because the situation was worsening. But since I started benefiting from the Shisha Kibondo programme the situation changed dramatically," she said.
"My child is now healthy and he has fully recovered." Uwera added as she held her 1.5 years old son.
Under the program, Uwera was given three kilogrammes of fortified porridge every week for seven months until her son made a full recovery. Thanks to this new complement to her son's diet, the child's weight increased from seven kilogrammes at six months to 13 kilogrammes now.
'in addition to being too tiny for his age, he was also weak but since I started feeding him with the shisha kibondo porridge, his growth immediately went back to normal and he is now much stronger. The porridge played a very important part in hi growth," she said.
The porridge has become a household name across the country's rural clinics and health centers, where it is distributed at no cost to over 100,000 mothers and infants countrywide by Rwanda's Ministry of Health.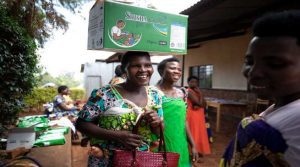 This program is arguably the largest malnutrition prevention program in East Africa, targeting a 16% relative reduction in stunting within five years in Rwanda.