As its contribution to the fight against malnutrition on the continent, Africa Improved foods has been working relentlessly not only with the government, but also the World Food Program (WFP) to address this challenge. This is done by manufacturing nutritious foods for the vulnerable groups including the poor in rural areas of Rwanda and East Africa in general.
At the beginning of this year, AIF donated one tonne of Nootri Mama and Nootri Toto to the USAID Twiyubake program which was distributed to the 20 Early Child Development (ECD) centers in 12 districts. These 20 ECD centers were selected based on children with the most need for nutritional support.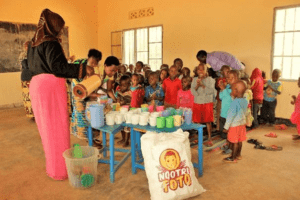 According to Malaika Neumann the Communications and Outreach manager, USAID Twiyubake Program ensures that the facilitators and caregivers running the centers are trained together with the children's parents. The parents are also equipped with basic materials that encourage them to train their children with toys locally made.
"Early childhood development builds on education, child growth, nutrition, and hygiene. The centers which are community owned, operate from Monday to Friday from 8:00 to 11:00 am and prepare children aged 3–5 years for formal schooling. In the parenting group, parents acquire positive parenting skills and organize themselves to take turns in caring for the children" she said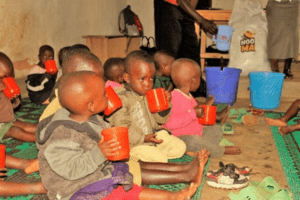 The president of Kavumo ECD, Mr. Habitegeko Francois explained that they faced a lot of challenges starting an ECD center. He stated that they did not have a room so their meetings were held from outside and didn't have the right nutrition for the children. USAID Twiyubake Program offered training and equipment and he is now able to run Kavumo ECD which so far has over 45 children.
The ECD centers were grateful for the donation and support offered by Africa Improved foods and claimed that the donation is a motivation for all the centers to start feeding their children right to fight malnutrition. They added that it would take them a week to collect 50 to 100 Rwandan Francs from the children's parents to be able to buy porridge for them. The mothers see this donation as a relief for their children to have a nutritious and healthy meal every day.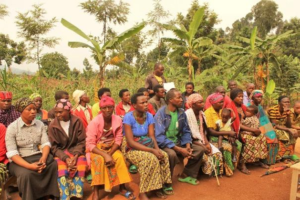 "As we do not cultivate sorghum in Rutsiro, the only porridge flour we could offer our children is maize flour. We will start collecting and stocking maize cobs from our fields here at the ECD center. We will grind them to make flour, "added Francois
With the above said, USAID Twiyubake Program was appreciative of the contribution from Africa Improved foods to fight malnutrition in some of the rural areas in Rwanda and as a message from the ECD centers that received this donation, they were deeply grateful and promise to start feeding their children right and encourage the parents still out there and not able to feed their children right to join these centers since the first 1000 days of a child's life is the most critical window of their growth and cognitive development.