Kigali- 31st May 2018
Rwanda's leading manufacturer of high-quality nutritious foods, Africa Improved Foods (AIF) is celebrating its anniversary today – a year since its official launch on 31st May 2017 in the country.
Speaking at a panel during a country-wide media tour with international and local journalists, AIF's Chief Executive Officer, Amar Ali noted the ongoing impact of the company's work in its first year of existence, "We are working hard to address the issue of malnutrition while encouraging local production and improving the quality of yields through our local sourcing projects. While there are similar projects in the region, none combine the elements of fighting malnutrition and a public-private partnership model like we are doing," he said.
Malnutrition still remains a key public health concern in the country and has been put at the forefront of the Government's Vision 2020 Agenda.
Also speaking at the roundtable, Hugh Welsh, the President of DSM North America attributed the company's success to its unique model, "The great thing about this model is that it engages the wider community in the process of creating these impacts – which not only makes it progressive but also sustainable in the long run," he added.
While the company has become largely known for its world-class nutrition products including the commercial brands Nootri Mama, Nootri Toto and the latest Nootri Family (for all age groups), AIF mainly continues to produce porridge flours (with added milk, vitamins and minerals) targeting vulnerable population segments such as pregnant and breastfeeding mothers, older infants and young children for the critical first 1,000 days of their lives.
In partnership with the Government of Rwanda, AIF supports nutrition programs for the most impoverished communities through its Shisha Kibondo products. The company also produces relief foods for the World Food Programme that are distributed again to the most vulnerable populations in refugee camps in Kenya, Uganda, Somalia and South Sudan. Winifred Ngarure, the Head of Investment Promotion at RDB said, "On behalf of the Rwanda Development Board we want to thank AIF for showing us all that we can achieve. They made it possible to produce fortified foods locally in Rwanda. We thank them for improving the value chain for our farmers and helping combat malnutrition by producing better quality fortified foods."
Africa Improved Foods is located in the Kigali's Special Economic Zone, sitting on 40,000m² of land and employing over 300 staff. The plant has an annual production capacity of 45,000 tons making it one of the largest nutrition factory sites on the continent. AIF works with over 24,000 farmers across Rwanda and produces meals for 1.5 million people every day. In 2017 the company spent $17 million in regionally sourced packaging, equipment, and services.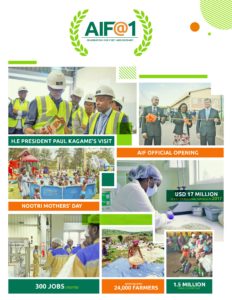 The impact of AIF has been widely recognized in Rwanda. AIF has received a wide range of awards in its short lifespan, including the Investor of the Year Award from the Rwanda Development Board.
About Africa Improved Foods
AIF Rwanda is a joint-venture between the Government of Rwanda and a consortium of Royal DSM, Dutch development bank (FMO), DFID Impact Acceleration Facility managed by CDC Group plc and International Finance Corporation (IFC), the private sector arm of the World Bank Group. It is the leading manufacturer of high quality and nutritious complementary foods.
Connect with us on;
Twitter: @AIFRwanda and @NootriAfrica
Facebook: Africa Improved Foods
Website: www.africaimprovedfoods.com